You wouldn't find a more popular poker game than Texas Hold'em Poker. Millions of people all over the world try their luck and gaming skills every day. Some of them do it for money, others just for fun. Whether you belong to the first or the other group, go through the rules with us and start playing, too.
Other types of casino games category Poker
Texas Hold'em Poker Online
The world discovered poker in 18th century, so its most played variant Texas Hold'em, is, in fact, a minor part. It was created in the 20s from the 7 Card Stud variant and it is a reliable source of money not only for real but also for online casinos.
Types of Hold'em
The various types are distinguished by the bet limits:
Limit Texas Hold'em - every bet round has its limit given
No Limit Texas Hold'em - players can stake any amount, up to All-in
Pot Limit Texas Hold'em - players can stake a maximum amount according to the bank
Mixed Limit Texas Hold'em - changing between Limit and No Limit Texas Hold'em
In conclusion to Texas Hold'em
The knowledge of rules, a peaceful mind and a bit of luck are enough for you to enjoy playing and even to earn (tens, hundreds, thousands...?) of money. Don't linger only on Hold'em, there are way more variants. How about Omaha or Strip poker?
How to play the most popular online poker
The dealer / croupier hands out two cards to every player. Other five cards are laid on the table face up, one by one, to create a so-called board. These cards are common for all players. There are three phases in which the cards are laid on the table. The first one is called FLOP, where three cards at once are revealed. This is followed by TURN which shows the fourth card. RIVER shows the fifth one.
Bets can be taken in all game phases (pre-flop, flop, turn, river). After the last round, there comes so-called SHOWDOWN. All players who stayed in the game show their cards. The most valuable combination, consisting of player's and common cards, wins. In case of sameness, the bank divides the winning equally.
Winning combinations in Texas Hold'em Poker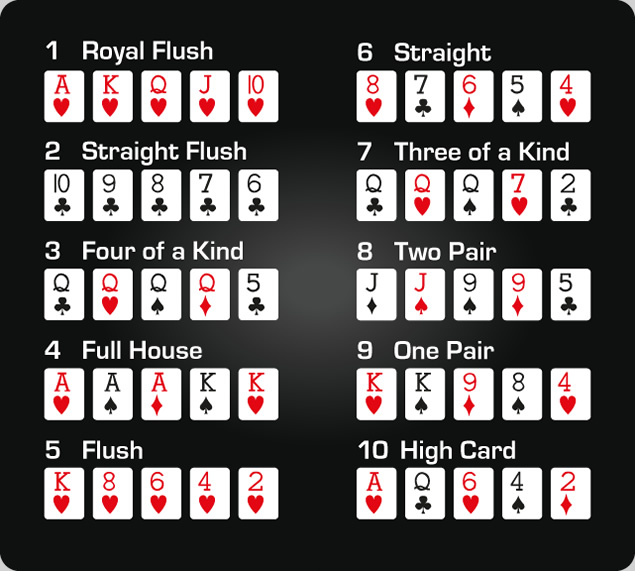 Game strategy
Poker has its game strategies, too. For cash game, there are for example these:
Position
Tight is right
Never slowplay
Pre/post/flop play
However, the foundation stone of every game are the starting card combinations.